Stormwater Fact Sheet
<![if !vml]>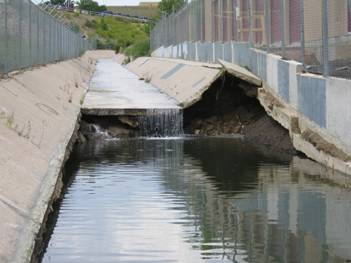 <![endif]>
Stormwater runoff during the June 21, 2005 rain storm caused cracked concrete in a drainage channel at Pikes Peak and Academy to buckle and eventually collapse. Water spilled over the sides of the drainage channel as well as across Pikes Peak Avenue during the storm.
· Failure to properly manage stormwater puts a community's public and private infrastructure at considerable risk. It also increases long term repair costs for roads, bridges, and water quality. Prevention of problems before they arise is far more cost effective than trying to restore and retrofit after the fact.
· On November 22, 2005, City Council approved the creation of a stormwater enterprise in Colorado Springs.
· The stormwater enterprise will be a City-owned business that will fund operations and maintenance functions on existing stormwater infrastructure, administer the City's Federally-Mandated Municipal Permit, engineering and technical review staff, and design and construct capital improvements.
· The stormwater enterprise will be funded by fees paid by property owners based on the type of property (residential, commercial or nonprofit); the amount of impervious surface (area that does not allow water to penetrate, such as rooftops, driveways and patios); and the density (percentage of impervious vs. pervious) on their property.
· City Council adopted a rate structure on Nov. 14, 2006. The fee tables can be found on the back side of this fact sheet. The average single family residential property will be billed less than $5 per month. Residential rates are capped at $13.65 per month, while commercial properties are capped at $920 and nonprofits and public schools are capped at $172.50.
· Fees will be billed quarterly with the first invoices sent out in February and March of 2007 and covering the first quarter of the year (Jan-Mar 2007).
· City staff estimates the current backlog of stormwater capital project needs at $295 million. Included in that list is $66.5 million in critical needs. The 5-year capital improvements budget includes funding for 13 of the 24 high priority projects.
· Until the November 22, 2005 vote, Colorado Springs was the largest municipality in the state without a stormwater enterprise. Cities with stormwater enterprises include Arvada, Aurora, Boulder, Castle Rock, Denver, Fort Collins, Golden, Greeley, Lakewood, Littleton, Longmont, Loveland, Parker, Pueblo, Westminster and Woodland Park. Some have been in existence for more than 20 years.
For more information, visit springsgov.com, email [email protected] or call (719) 385-5913.
SFR --- Single Family Residential

Imperv Area/Total Area

Imperv Area

(Sq. Ft.)

< 30%

30%-60%

> 60%

<2,000

$2.15

$2.55

$2.95

2,001-3,000

$3.60

$4.25

$4.90

3,001-4,000

$5.10

$6.00

$6.90

4,001-5,000

$6.50

$7.65

$8.80

5,001-6,000

$7.95

$9.35

$10.75

6,001-7,000

$9.35

$11.00

$12.65

>7,001

$10.15

$11.90

$13.65




Com Ind Gov --- Commercial, Industrial, Government

Imperv Area/Total Area

Imperv Area (Sq. Ft.)

< 30%

30%-60%

> 60%

<2,000

$2.55

$3.00

$3.45

2,001-4,000

$4.75

$5.75

$6.50

4,001-8,000

$10.00

$12.00

$14.00

8,001-15,000

$18.75

$22.00

$25.25

15,001-25,000

$34.00

$40.00

$46.00

25,001-50,000

$64.00

$75.00

$86.00

50,001-100,000

$125.00

$150.00

$175.00

100,001-200,000

$255.00

$300.00

$345.00

200,001-300,000

$425.00

$500.00

$575.00

300,001-400,000

$595.00

$700.00

$805.00

>400,001

$680.00

$800.00

$920.00




Non Profit / Public Educational

Imperv Area/Total Area

Imperv Area (Sq. Ft.)

< 30%

30%-60%

> 60%

<2,000

$1.90

$2.25

$2.60

2,001-4,000

$3.50

$4.25

$5.00

4,001-8,000

$7.50

$9.00

$10.50

8,001-15,000

$14.50

$17.00

$19.50

15,001-25,000

$25.50

$30.00

$34.50

25,001-50,000

$47.80

$56.25

$64.70

50,000-100,000

$95.00

$110.00

$125.00

>100,001

$127.50

$150.00

$172.50

Category Definitions
Single Family Residential - includes single family homes, townhomes, condominiums, duplexes, triplexes and fourplexes
Commercial/Industrial/Agricultural/Government – includes commercial, industrial, and government properties along with non-residential properties that do not fit into either the single family residential or non-profit and public educational categories
Non-profit/Public Educational - includes properties owned by corporations, and any community chest, fund, or foundation, organized and operated exclusively for religious, charitable, scientific, testing for public safety, literary, or educational purposes, or to foster national or international amateur sports competition, and public educational institutions